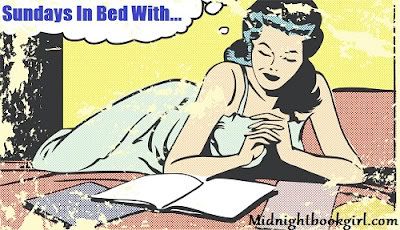 Kate at Midnight Book Girl has started a new feature on Sunday mornings to share with everyone what you're reading in bed Sunday morning before getting to the days activities.
First, Happy Mother's Day to all the mothers out there!  I just want to take a minute to talk about my own mom.  I got pretty lucky in the parent department, for which I am always grateful.   When I was younger my mom was a huge influence on what I was reading.  She introduced me to the Trixie Belden books (which will soon be mine!) and when she could tell I was bored with YA she introduced me to John Grisham and Mary Higgins Clark (who is going to be at BEA).  She recently gave me the final push to read The Girl with the Dragon Tattoo.
Today I'm reading The Fault in Our Stars.  I had this big list of books that I was planning on reading before BEA but that was just a pipe dream.  So I settled on reading just one book from my list, and since I'm going to the John Green breakfast I'm reading The Fault in Our Stars.  So far so good, and I hope to finish it up by Tuesday.
What are you reading today?
Other News:
* I am super upset that they decided to cancel Awake.  Why does this always happen?  I hate when I become invested in a show and they cancel it.  At least they didn't cancel Revenge or Grimm.