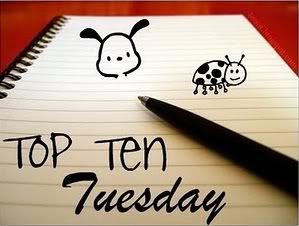 Top Ten Tuesday is an original feature/weekly meme created at
The Broke and Bookish
.
Top Ten Books from the last ten years that I hope they are still reading in 30 years.
1. The Hunger Games by Suzanne Collins
Oppressive government + uprising citizen = a formula people will love forever.
2. The Help by Kathryn Stockett
This is the new To Kill a Mockingbird.  It can't ever replace To Kill a Mockingbird, but it's sentiments make for a book easily readable well into the future.
3. The Book Thief
Beautiful and heartbreaking.  A must read for everyone, anytime.
4. Harry Potter 5-7 (really, all of Harry Potter but only 5-7 made the 10 year cut off) by JK Rowling.
If people do not continue to read Harry Potter I will be one very sad, unhappy girl.
5. The Fault in Our Stars by John Green
This book was so beautiful.  I hope people never stop reading it!
This was a lot harder than I thought, I can only think of 5!  I know that there are so many books that I love, but I just can't think of any more that will survive the test of time, generations and that will appeal to the masses.