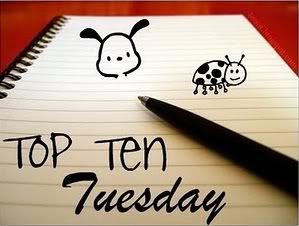 Top Ten Tuesday is an original feature/weekly meme created at
The Broke and Bookish
.
Top Ten Books that I'd like to see made into a movie.

I love seeing books made into movies… on the condition that they do a good job.  For every awesome movie like The Help there is an awesomely bad movie like Confessions of a Shopaholic.  So, even though I'd love to see these books made to movies I have reservations about them being done correctly.
1. Delirium by Lauren Oliver
2. The Unbecoming of Mara Dyer by Michelle Hodkin
3. Life as We Knew It by Susan Beth Pfeffer
4. Divergent by Veronica Roth
5. Deadly Cool by Gemma Halliday

6. My Sweet Audrina by VC Andrews
7. Anna Dressed in Blood by Kendare Blake
8. Something Blue by Emily Giffin
9. Remember Me by Christopher Pike
10. The Vanishing Game by Kate Kae Myers
What's on your list?