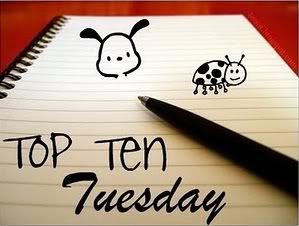 Top Ten Tuesday is an original feature/weekly meme created at
The Broke and Bookish
.
Top Ten Blogs/Sites you visit that aren't about books.

I've been looking forward to this one because it's showing a different side of yourself!  I know about a lot of bloggers and their books but this is chance to get to know you a little more.  I took the easy way out and went to my firefox history and took my top ten sites all time.
1.
Yahoo
  I was going to discount this at first because it's my homepage, but since I scroll through their top stories at least twice a day and they are my main source of news, it counts.
2.
Facebook
This is probably pretty common, but I find myself using it less and less.  The new news feed drives me absolutely nuts!  Why can't they just show all my friends in chronological order like they used too!
3.
QSRSoft
This is the site I need for work.  It saddens me to see it so high on my list.

4. My Bank.  I'm pretty obsessed with checking my bank account.  I wish it was because I had gobs and gobs of money and I was watching it grow, but sadly, it's more because I want to make sure I have enough money.  Someday I'll be rich.
5.
ESPN Fantasy Football
  I am a huge football fan.  I was born and raised in WI so football is pretty important (it's like a religion almost) and the older I got the "worse" it got.  Every year my family and I play fantasy football (not the kind with the draft because that' takes too much time) and it's pretty serious.  I won two years ago and came in second last year.  I'm still pretty upset about that.  (This surprised me that it was so high on my list because I only visit here 5 months out of the year.)
6.
ESPN NFL
This is where I get my news from so I know what's up around the NFL and can make accurate picks and adjustments so that I can win.
7.
Dan Shanoff
My only blog on the list.  It's a sport blog that I only follow religiously during football season.
8.
Packers
This is the team I worship.

9. Quickish Another Football thing.
10.
103.7 Kiss FM
I have lived in VA for 5 years now and I still can't find a radio station that I love so I still check my favorite WI radio station for new music I may like. 

So, what are your favorite sites/blogs?