Book Blogger Hop is hosted by Jen at Crazy-For-Books.
Do you have a keeper shelf for books you loved? What books are on that shelf and why?

I do not have a keeper shelf… at this time.  I will have a keeper shelf in September.  At this point other than my HP books and my signed books I don't know what else will be on it.  I don't even know how many books will fit, or how much of the space in the cabinet I will use.  I haven't thought that far ahead yet.  (Note: I am FULLY COMMITED to doing this, but it may require some follow up in September, as I am very OCD about my books and the fact that they will not all be together will probably bother me. A lot)
---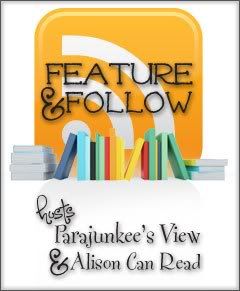 Feature & Follow is hosted by Parajunkee's View and
Alison Can Read
. Every week they feature a new blogger and ask a question.  Learn more about Feature & Follow.   
Birthday Wishes: Blow out the candles and imagine what character could pop out of your cake, who is it and what book are they from.

I'm going to have to go with Kaleb from Timepiece by Myra McEntire.  I liked him in Hourglass, but I loved him in Timepiece.  I like his bad boy nature, how much he cares, and all the crazy thoughts he has in his head!
---
TGIF is a weekly meme to re-cap the week's posts & to propose a question for our followers. It is run by Ginger at
GReads
.
Best I've Read So Far: We're half way through the year (crazy how time flies!), which top 3 books are the best you've read so far this year?

Only 3?  Seriously?  I can't just pick 3!!!  I've read some really great books this year. 

Here are my favorite three:
The Fault in Our Stars by John Green
Divergent by Veronica Roth
Timepiece by Myra McEntire
But I also could have picked:
Ten by Gretchen McNeil
Girl of Nightmares by Kendare Blake
I've Got Your Number by Sophie Kinsella