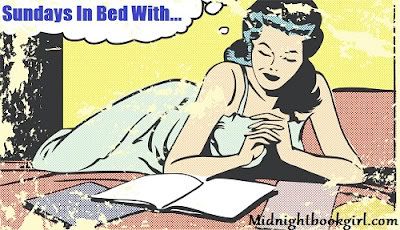 Kate at Midnight Book Girl has started a new feature on Sunday mornings to share with everyone what you're reading in bed Sunday morning before getting to the days activities.
Yesterday I had an unexpected change in plans that resulted in a completely free day.  And since over the last few weeks I haven't done that much reading (month of June book total prior to yesterday was a paltry 3) I decided to have my own little read and review-a-thon.  I did some grocery shopping and picked up a few snacks and then I settled in.
I finished Fifty Shades Freed (ok) and The Selection (loved) and I read Ten (amazing!) and Rescue Me (a disappointing ok).
This morning I am curling up with Queen of the Dead by Stacey Kade.  I really enjoyed The Ghost and the Goth but just haven't gotten to the sequels yet.  I'm thinking that maybe I am going to make July a sequel reading month as I have so many sequels that I haven't read yet.


**Work story of the week**
So this woman calls and has a question, I am trying to answer her question but she wasn't really getting it and she started to get really upset and then she said (in the snidest tone ever) "What are you?  A secretary or something?  I want to talk to someone that can actually help me."
Excuse me?  I'm not a really a secretary, but whether I am or not isn't the point.  Who are you to talk to me like that?  Just because I don't have some impressive, "important" job, or own my own business doesn't mean I'm less worthy of politeness or respect.
I hope everyone has a great week!