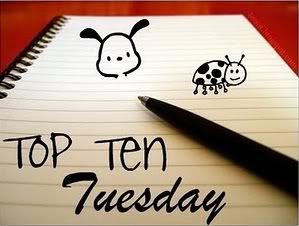 Top Ten Tuesday is an original feature/weekly meme created at
The Broke and Bookish
.
Top Ten Favorite Freebie

A couple of weeks ago we had the top ten favorite quotes and I made a huge oversight and I didn't include a single Harry Potter quote so I am dedicating today to all Harry Potter quotes.
The Sorcerer's Stone
"It takes much bravery to stand up to our enemies but we need as much bravery to stand up to our friends."
The Chamber of Secrets
"It is our choices, Harry, that show us what we truly are, far more than our abilities."
The Prisoner of Azkaban
"I don't go looking for trouble. Trouble usually finds me."
"You think the dead we loved truly ever leave us? You think that we don't recall them more clearly in times of great trouble?"
The Goblet of Fire
"It matters not what someone is born, but what they grow to be."
"It is my belief… that the truth is generally preferable to lies."
The Order of the Phoenix
"You're the one who is weak. You will never know love or friendship. And I feel sorry for you."
The Half Blood Prince
"Dumbledore says people find it far easier to forgive others for being wrong than being right."
The Deathly Hallows
"We're all human, aren't we? Every human life is worth the same, and worth saving."
"I'm going to keep going until I succeed — or die. Don't think I don't know how this might end. I've known it for years."
Bonus Quotes
Mrs. Weasley – "Not my daughter, you bitch!"
Fred & George – "Holey? You have the the whole world of ear-related humor before you, you go for holey?"
Ron – "Cinderella?  Snow White?  What's that?  An illness?
Hermione – "Are you sure that's a real spell? Well, it's not very good is it? I've tried a few simple spells myself and they've all worked for me. Nobody in my family's magic at all, it was ever such a surprise when I got my letter, but I was ever so pleased, of course, it's the best school of witchcraft there is I've heard – I've learned all the course books by heart of course. I just hope it will be enough – I'm Hermione Granger, by the way, who are you?"
Neville – "I'll join you when hell freezes over!"