Book Blogger Hop is hosted by Jen at Crazy-For-Books.
How long does it take you to read a book?

I am a very fast reader.  Depending on what type of book it is, the style of writing and number of pages I can read a book in a few hours.  Depending on time and other commitments it usually takes me 2-3 days to finish a book (I often read 2 at a time).
Sometimes it's great to be able to read fast because I can quickly get ahead (and it was great for reading in school) but when I am really enjoying a book and want to take my time reading it I have a very hard time slowing down.
---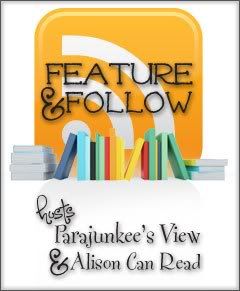 Feature & Follow is hosted by Parajunkee's View and
Alison Can Read
. Every week they feature a new blogger and ask a question.  Learn more about Feature & Follow.   
What drove you to start book blogging in the first place?
My IRL friend Kate (
Midnight Book Girl
) kept talking about this readathon and I wasn't going to do it, but I had nothing going on that weekend so I decided to participate.  Kate said it was more fun with a blog so I jumped on Blogger and started a blog.  At first I wasn't going to keep doing it, but when I discovered all this other bookish stuff that I had no idea existed I decided to keep doing it!