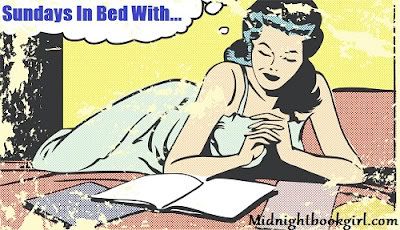 Kate at Midnight Book Girl has started a new feature on Sunday mornings to share with everyone what you're reading in bed Sunday morning before getting to the days activities.
Look guys!  It's a real picture!  You get to see my fabulous sheets and comforter.  (Yeah I sleep with a comforter even in the summer.  That's what fans are for.)
Today I'm reading Size 12 is Not Fat by Meg Cabot.  It comes highly recommended by Kate and it sounds like my kind of book.
This past week was a very rough reading week for me.  I couldn't get into anything.  I'm not sure if it was because I just finished Pushing the Limits (amazing!  review will be up tomorrow) or if I was just being extra moody, but I read between 40-60 pages in 4 different books (Soulless, Red Glove, Fever and 11th Hour) before finally settling on Circle of Silence.
It was very frustrating, but it's obviously more me than the books so no one needs to come after me for not be able to get into Red Glove (*cough* Jenny *cough*) or Soulless (*cough* Steph *cough*).  I will be coming back to these books.
Enjoy your Sunday!