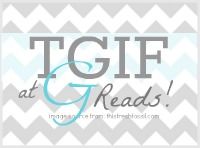 TGIF is a weekly meme to re-cap the week's posts & to propose a question for our followers. It is run by Ginger at
GReads
.
Christmas in July: If Santa were to come down your chimney in the middle of summer, which books would you want him to leave for you under the tree?

I don't have too many books that I desperately want right now.  But if there was anyway I could get my hands on Requiem by Lauren Oliver.  I am eagerly anticipating the release of Girl of Nightmares by Kendare Blake and Pushing the Limits by Katie McGarry, but I've read both of those already.  
---
Book Blogger Hop is hosted by Jen at Crazy-For-Books.
Blogging Question: What is one thing that your blog readers probably do not know about you?

I have a crazy obsession with football.  It's the one thing other than books that takes up a large portion of my free time.  September-January my Sundays and Mondays are filled with football.  And I take football VERY SERIOUSLY.  Quite often my mood on Monday is defined by what happens on Sunday.