TGIF is a weekly meme to re-cap the week's posts & to propose a question for our followers. It is run by Ginger at GReads.
Which books do you go to for comfort and familiarity?  Is there a type of book you seek out when you're needing that extra bit of comfort in your life?

I have several comfort books.  Most of my comfort books are light and funny chick lit style of books (Confessions of a Shopaholic, See Jane Score, It Had to Be You, are probably the light and funny books I go to the most) but I do have some other random style books that I find comforting more because they are familiar than anything else (Jurassic Park and Flowers in the Attic are the two non light and funny books I go to the most). 
What are your comfort books?
---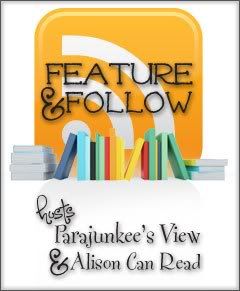 Feature & Follow is hosted by Parajunkee's View and
Alison Can Read
. Every week they feature a new blogger and ask a question.  Learn more about Feature & Follow.   
Jumping Genres: Ever pick up a book from a genre you usually don't like and LOVE it?  Tell us about it and why you picked it up in the first place.

I went through a scary book phase in elementary school reading every Christopher Pike and RL Stine that I could get my hands on but when I tried making the jump to Stephen King I failed miserably and stopped reading horror and never looked back. 
Several months ago I was at the library and they were displaying Anna Dressed in Blood and the cover is sooo pretty and even though it sounded scary I picked it up anyway and I loved it!  I also discovered that I really do like ghosts too.