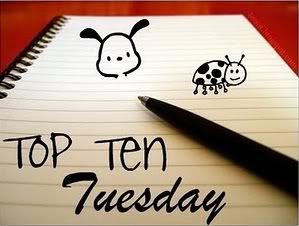 Top Ten Tuesday is an original feature/weekly meme created at
The Broke and Bookish
.
Top Ten Freebie! Childhood Favorites.
A mix of my favorite books that I read in my elementary school years.  Last year I reread one of my favorite Christopher Pike books and I was kind of disappointed.  It wasn't quite as good as I remembered.  I don't plan on reading any of these books again because of that.  I want the happy memories to live on.
1. All Around the Town by Mary Higgins Clark 
My first "adult" book.  I read this the summer between fifth and sixth grade.  My grandma wanted to "talk" about the sensitive issues in this book.
2. The Witch of Blackbird Pond
A school assigned book that I devoured in like 1 hour (ok, maybe 6 or 7 hours). 
3. The True Confessions of Charlotte Doyle
My mom picked this up on the recommendation of one of my teachers, so of course I didn't want to read it.  When I finally got around to it I loved it. 
4. The Babysitters Club books by Ann M Martin
I devoured these books.  Even the specials.  I even tried creating my own babysitters club, which sadly did not pan out.
5. Chain Letter by Christopher Pike
Chain Letter is definitely my favorite child hood book.  By Far.  It was absolutely terrifying and creepy and I lost sleep over it, but it didn't matter because it was sooo good. 
6. Trixie Belden Series
This series was my mom's and it was my first experience with series books.  I loved reading them, especially since they were old school.  My one complaint is that they pretty much never aged.
7. Island of the Blue Dolphins by Scott O'Dell
I don't remember much about it, but I must have loved it because I have a copy.
8. Charlie and the Chocolate Factory by Roald Dahl
Book was much better than the movie.  Especially the remake version. 
9. The Upstairs Room by Joanna Reiss
I had a hard time getting in the Diary of Anne Frank so the librarian recommended The Upstairs Room instead.  It was so good, I wrote a really good book report on it.
10. Charlotte's Web
Who doesn't love Charlotte's Web?