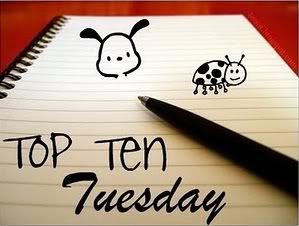 Top Ten Tuesday is an original feature/weekly meme created at
The Broke and Bookish
.
Top Ten Most Vivid Worlds/Settings In Books
This is going to be a short list.  I don't read a lot of fantasy/sci-fi books and it seems not much else has stuck with me.
1.  Harry Potter by JK Rowling.
  If this isn't number one on everyone's list, I'll be really sad because if I could picture myself anywhere, it's in Potterland.  Seriously people, I just don't see how Harry Potter could not be #1 on every list.
I serious considered listing all the Harry Potter books for #1-7, but I will refrain from doing that (but if you were interested in knowing, I think the best setting is a toss up between books 4 and 7).
2.  The Night Circus by Erin Morgenstern.
  The descriptions in The Night Circus were absolutely amazing! 
4. Jurassic Park by Michael Crichton.
  I wanted to go to Isla Nubar so bad, dinosaurs excluded.
6. The Great Gatsby by F. Scott Fitzgerald.
  The 1920's.  Need I say more?
7. Under the Never Sky by Veronica Rossi.
  I loved both the Reverie (though we didn't spend a lot of time there) and the outside.