Book Blogger Hop is hosted by Jen at Crazy-For-Books.
Blogging Question: What is your favorite thing about blogging?

My favorite thing about blogging is meeting and getting to know other bloggers (either in real life or just online).  I've met so many awesome people since I've started my blog and developed some good friendships.  I love bonding with people over books. 
---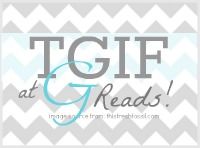 TGIF is a weekly meme to re-cap the week's posts & to propose a question for our followers. It is run by Ginger at
GReads
.
Back to School Reading: Which books would you like to see in today's high school Literature classrooms?

Before I list any books I just want to say that one of the things I disliked most about my literature classes in school was that we only read "classic" books and while they are classic for a reason they are not always relevant in todays society. I definitely don't think we should stop reading "classics" but I think there needs to be a mix of current and classic books.
Two books that I think should be read in high school are Perks of Being a Wallflower and The Help (but please don't stop reading To Kill a Mockingbird)