Book Blogger Hop is hosted by Jen at Crazy-For-Books.
When a book goes "viral" (Hunger Games, Fifty Shades, Twilight), do you rush out to read it like everyone else, even if it's not in your typical genre?

It really depends for me.  I'm a fairly eclectic reader so unless it's non fiction or sci-fi it's probably a genre I'll read.  I did read Fifty Shades and there is no way I would have if it hadn't gone "viral", but I can be contrary about "viral" books.  I didn't read Twilight until after the New Moon movie came out (which ironically was my least favorite book).  I guess it kind of depends on my mood.
---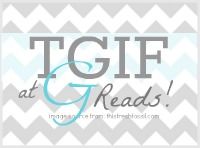 TGIF is a weekly meme to re-cap the week's posts & to propose a question for our followers. It is run by Ginger at
GReads
.
Book Olympics, which books would you give the gold, silver and bronze medals to?  It can be from any genre, new or old.
I chose to pick from books that I've read this year.
Gold: Pushing the Limits by Katie McGarry 
Silver: The Fault in Our Stars by John Green
Bronze: Divergent by Veronica Roth
It was a close call between the gold and silver.