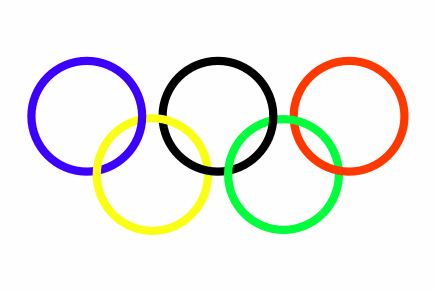 As much as I love the Olympics I'm mostly glad that they are over.  I've hardly done any reading (or yard work) since they began.
Here are some of my thoughts
Awesome quote
"It is well known that Guatemala has problems with guns and knives. I hope that this medal inspires the kids at home to put down guns and knives and pick up a pair of trainers instead. If they do that, I will be the happiest guy in the world."
– Erick Barrondo (won Guatemala's first medal ever, a silver in the 20km race walk) (Yahoo! Sports)
I'm not trying to be greedy, but…
I can't say it's not awesome that the US won the most medals.
Best moment
The women winning the 4×100 relay in world record time.  Amazing!
Runner up: Gabby Douglas winning the All Around.  I love that girl's smile!
Worst moment
The badminton cheaters.  A total of 4 teams (China, Indonesia, and two South Korea teams) were DQ'd for blatantly trying to lose so they could play a worse team in the next round.  Embarrassing.
Michael Phelps vs Usain Bolt
Let's just say they are the best at what they do and call it even.
1992 Men's Basketball team vs 2012 Men's Basketball team
The Dream Team, hands down.
Magnificent 7 vs Fab 5
Pass.
How awesome are Misty May and Kerri Walsh?
Pretty awesome!  As was the other team, Ross & Kessy.
On NBC's coverage
We are already watching on a time delay, is there a reason why you can't just air the whole match?  You already know how long it's going to take so it's not like you can't plan for it.  I miss the good old days where everything was live on like 10 different channels so you could always watch the event that you wanted to.
On Yahoo's coverage
I appreciate the "spoiler" warnings, but giving a spoiler warning with a headline that says something like "surprise winner in XXXX race" with a picture of Phelps is giving away the fact that he didn't win!  Not cool!
On the Closing Ceremony
It was good, but what was up with the Octopus?  If anyone understands the Octopus please, please, please explain for me.