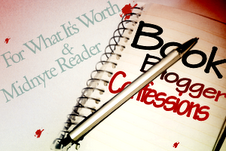 Book Blogger Confessions is a meme that allows book bloggers to discuss issues unique to what we encounter in the blogging world. Every 1st and 3rd Monday of the month we will post a question and invite you to answer, comment and discuss opinions and different views.
Please keep the dialogue courteous. No bashing!
If you would like to participate in this meme please feel free to to grab the button to include in your post with a link to For What It's Worth Reviews or at Midnyte Reader.
Question: Following: How do you follow blogs? Do you use Google Reader? Are you on an e-mail list? Are you more apt to follow people who have less followers? Would you follow a blog to enter a contest? What makes you unfollow a blog?
I use Net News Wire in conjunction with Google Reader. New News Wire is nice because if I read it on my phone it also marks it read on my mac so I don't have to go through it again on my computer. I have all my blogs organized into folders so that I can easily find my favorites and remember things (i.e. people I met at BEA). That has been incredibly helpful.
I will not follow any blogs through email. I get enough email as it is, I don't want to add more.
As someone who doesn't have a ton of followers I am definitely more likely to follow people who have less followers, but I also have to like what they have on their blog.  
I pretty much don't enter any contests, on the few I do enter I am usually a follower already anyway.
I haven't had anything pop up that makes me immediately want me to unfollow a blog but when I clean out my reader I will unfollow anyone who has stopped blogging, I will look at the post history on my reader (usually 20-25 posts) and see how many I have starred, if I haven't starred any than I look through the posts to see if anything still appeals to me, if not then I will unfollow, I will also unfollow if all I see are contest after contest with no content.