I'm so excited to announce that in October, along with three other awesome bloggers, I will be hosting a creeptastic event honoring scary books, paranormal creatures, and all things worthy of October.  Each week one of us will host the event, giving you a creepy challenge and providing you with chances to enter an awesome giveaway.
Where do you want to be?
October 1 – I'm going to start things with a bang right here at On the Wings of Books.
October 8 – Kate aka Midnight Book Girl will have a bloodbath for you.
October 15 – Steph of The Fake Steph Dot Com will be screaming bloody murder.
October 22 – Danielle from My Mercurial Musings will be the surprise killer in the end.
We'll also have a month long giveaway that will have one winner winning lots of scary books, candy, and probably some vampire teeth, because let's be honest… they are totally my favorite part of Halloween.  Start queuing all your scary reviews, because if you review them as part of Bloggers Dressed In Blood, you'll get entries into the month long giveaway!
For now, feel free to grab a button and share the love.  I am so excited for October and can't wait to celebrate the scariest month of the year!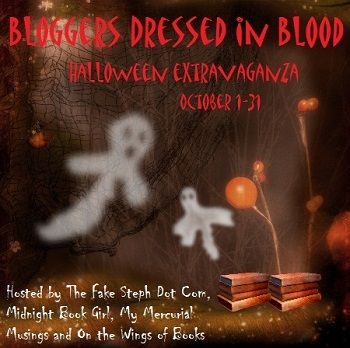 Credit to Kate for coming up with an awesome event name, to Steph for having the awesome idea and to Danielle for joining us!

*Button was created using the So Spooky kit by Kaymee Designs