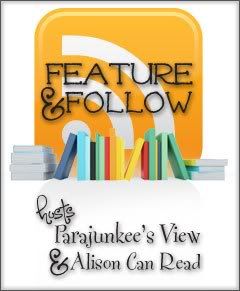 Feature and Follow is hosted by Rachel from Parajunkee's View and Alison from Alison Can Read.
Today's features are Nina from J'adore Happy Endings and (un)Conventional Book Reviews
What is the BIGGEST word you've seen in a book lately – that made you stop and look it up? Might as well leave the definition and book too.
I don't usually look up words when I'm reading. Not because I'm super smart or anything but because I'm lazy. Usually I either just skip it or infer the meaning from the context clues. Occasionally I'll look up a word on my ereader but I've only once in forever looked up a word from a hard copy. I can't think of any words I've looked up lately in my ereader but I remember the one I looked up from the hard copy.
The Book: Burn for Burn by Jenny Han and Siobhan Vivan
The Word: Espadrilles
The Definition: A flat shoe with a cloth upper, a rope sole, and sometimes lacing that ties around the ankle. (dictionary.com)
It was obvious from the book that it was a shoe, but I had never seen the word and it was driving me nuts, so I stopped being lazy for a moment and looked it up.