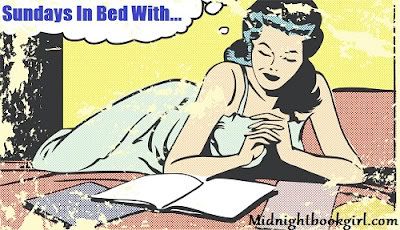 Sunday's in Bed is hosted by Kate at Midnight Book Girl to share with everyone what you're reading in bed Sunday morning before getting to the days activities.
Today I'm reading Ready Player One by Ernest Cline
You know how sometimes you're reading a book and you're maybe 50 pages in and you're just not sure about the book, but you keep reading, and then it finally manages to really grab you and hold on… Ready Player One is not that book. I have been completely sucked into this book from page 3. The only reason I haven't finished it yet is because I was short on time this week, but I should be finishing it up today.
Ready Player One is filled with the most awesome 80's references ever. I'm in love.
---
The things I do for my brother…

My brother doesn't have cable and wanted to watch the Packer game. We had a little plan for how to do this, but it didn't work out so we did this instead. I turned on the video chat and faced it towards the tv for him to watch.

My computer is old though and can't take that kind of action so it started to overheat so I propped it up on two tupperwear containers and used my little fan to blow cold air underneath to keep it cool. Worked like a charm.

Unfortunately what didn't work like a charm was the replacement refs. Short version here is that they screwed us out of a win. You can read the long version over at ESPN.

On the bright side the NFL and the referee's finally came to an agreement, though they keep insisting that it was not because of the incident (whatever to that!), and the replacement refs will go away. All 31 teams and the fans can thank the Packers for "taking one for the team."