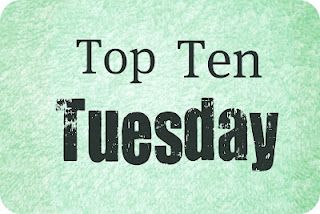 Top Ten Tuesday is an weekly meme created by the awesome people at The Broke and Bookish, who love lists as much as I do.
Top Ten Bookish People You Want To Meet (Authors, Bloggers, etc.)
In no particular order…
1. Maureen Johnson
I've only read one of her books, but I follower her on twitter and she is the funniest person ever. 
2. Meg Cabot
I love Heather Wells books and since she writes them I feel like we could be great friends.
3. John Green
Who wouldn't want to meet John Green.
4. Courtney from Abducted by Books
5. Andrea from The Overstuffed Bookcase
I feel like I know them well already but we've never met in real life. Someday we will and it will be awesome!
6. Jenny from Alternate Readality
If Jenny and I ever met we would probably watch a lot of TV. We like quite a few of the same shows.
7. Sophie Kinsella
My absolute favorite chick lit author, and she is British and I love British accents.
8. JK Rowling
This one should need NO explanation.
9. Christopher Pike
He was the author of my childhood.
10. All the other bloggers out there
I want to meet all of you, because you all rock!