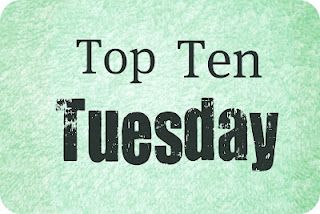 Top Ten Tuesday is an weekly meme created by the awesome people at The Broke and Bookish, who love lists as much as I do.
Top Ten Books That Make You Think (About The World, People, Life, etc.)
I think all books make you think in some way. Some books just make you think more, or about more serious topics.
Books that make you think about racial relations
1. A Time to Kill by John Grisham
2. Coming of Age in Mississippi by Anne Moody
3. The Help by Kathryn Stockett
4. To Kill a Mockingbird by Harper Lee
Books that make you think about survival
5. On the Island by Tracey Garvis Graves
6. Hatchet by Gary Paulsen
7. Life as We Knew It by Susan Beth Pfeffer
Books that make you think about life
8. The Hunger Games by Suzanne Collins
9. Looking for Alaska by John Green
10. The Perks of Being a Wallflower by Stephen chobosky