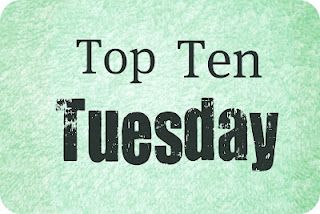 Top Ten Tuesday is an weekly meme created by the awesome people at The Broke and Bookish, who love lists as much as I do.
Top Ten Books On Your Fall TBR List
Ummm, it can't really be that time, can it? This pretty much means that I did not do well AT ALL on my summer TBR. But that's ok! Maybe I'll finally be successful in the fall.
1. The Diviners by Libba Bray
I was so going to read this over the summer, but it's a big book and I haven't had a lot of time so I've putting it off.
2. Stealing Parker by Miranda Keneally
I loved Catching Jordan and I am very excited about Stealing Parker.
3. Bad Girls Don't Die by Kate Alender
One of my October reads.
4. The Girl Who Kicked the Hornet's Nest by Stieg Larsson
I've been telling my mom that I was going to read this book for like 3 months now, so I am REALLY going to finish it this time.
5. Chain Letter by Christopher Pike
Another one of my October reads and an old favorite.  Chain Letter is one of my most favorite books from my childhood, and I'm looking forward to rereading it.
6.Carrie by Stephen King
I'm not actually looking forward to this but my friend Kate is hosting a Stephen King read-a-long and I've agreed to read this book.  It's already scaring me and I haven't even opened it.
7. Big Boned by Meg Cabot
I'm really looking forward to continuing Heather Wells' adventures.  She rocks!
8. The Evolution of Mara Dyer
Definitely my most anticipated fall release.  I can't wait to read it.
9. Ready Player One by Ernest Cline
I've been meaning to read this for awhile so now it's time to get to it!
10. The Innocents by Lili Peloquin
I picked this up at BEA based on the cover alone.  I'm not really sure what it's about, but that's ok, it looks good and that's good enough for me.
Bonus. Venom by Fiona Paul
Another that I picked up at BEA without knowing anything about it, except the ladies at Penguin swear it's THE BEST fall release.