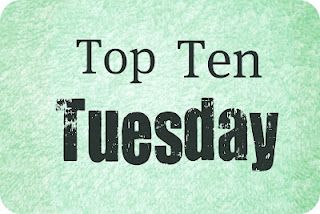 Top Ten Tuesday is an weekly meme created by the awesome people at The Broke and Bookish, who love lists as much as I do.
Top Ten Series I Haven't Finished (because either you didn't like them, you just have procrastinated, etc.)
I'm actually pretty dedicated to finishing series. It's not very often I choose not to finish a series so most of these are just ones I haven't gotten caught up on yet.
1. The In Death series by JD Robb
I didn't discover this series until the 19th or 20th one was published. I read through them all strait, then I got bored with them and stopped, but I've been thinking about resuming the series.
2. The Wither series by Lauren DeStefano
I didn't read Wither until Fever was already released, and I had already had Fever too and yet I read one and I have no real good excuse for not reading Fever.
3. The Women's Murder Club series by James Patterson & his helper
I really enjoy the Women's Murder Club books. They are easy to read, fun and have a fairly good mystery.
4. The Heather Wells series by Meg Cabot
After be hounded by Kate forever about this series I finally started it and I am eager to catch up.
5. The Maze Runner series by James Dashner
I don't mind questions, but I must have answers and The Maze Runner did not give me any answers. I had considered reading the next book but after hearing from so many people that you don't ever get any answers I've decided not to continue.
6. The Percy Jackson series by Rick Riordan
I liked the first one ok enough but not enough to rush out and read the others.
7. The White Cat series by Holly Black
This one will probably be read soon because Cassel is just so flippin awesome.
8. The WiHi series by Carol M Tanzman
This was one of the few times I read a book in a series out of order. Another one that I liked ok, but I don't see myself ever picking up the first book, Dancergirl.
9. The Books by the Bay Mystery series by Ellery Adams.
I read the first one for book club several months ago and then I went to a signing and picked up the next two books and still haven't read them.
10. The Article 5 series by Kristen Simmons.
I know a lot of people liked Article 5, but I didn't, therefore I have no desire to read Breaking Point.