I like to be scared, but not terrified. This is why I don't not read a lot of horror. I prefer to be creeped out instead. I like the tension and the "what's going to happen next?" knot in my stomach but I hate the "I have to sleep with the lights on" feeling.  But that poses a dilemma. What to read for Halloween? You can't go through October without reading something Halloweenish, right?
So here are my favorite books to get you into the Halloween Spirit, without scaring you to death! Books listed in order from least scary/creepy to most scary/creepy.
It's the Great Pumpkin, Charlie Brown by Charles M Schulz
You can laugh, but I'm serious! Charlie Brown definitely gets you into the Halloween spirit (The TV special works just as good too).
Glimmer by Phoebe Kitanidis
Glimmer was super creepy, but not scary. The ghosts gave me the heebie jeebies, but overall it had just the right creep factor.
The Vanishing Game by Kate Kae Myers
Another delightfully creepy book. I was definitely on my toes trying to figure out what happened.
Chain Letter by Christopher Pike
Old school horror at it's best. This reads more like a thriller than anything else. No goriness, just good old fashioned creepiness.
Ten by Gretchen McNeil
New school horror at it's old school best. This book reminded me so much of old school Christopher Pike, just a teeny bit creepier than I remember Pike being. But that could be because I've read Pike's books so often I no longer find them very creepy because I already know what happens.
Anna Dressed in Blood/Girl of Nightmares by Kendare Blake
Definitely the scariest books I've read this year. As a whole the books were more creepy than anything else, but there is a scene in both books that I found frightening and made it slightly difficult to fall asleep that night. Especially in Girl of Nightmares.
What's my favorite movie to get me into the Halloween spirit? None other than Hocus Pocus of course! I've seen this movie every year for Halloween since it was released back in the day. If you've never seen it you should definitely check it out, it airs on TV every year so you don't even have to buy it.
What are some of your Halloween reads?
---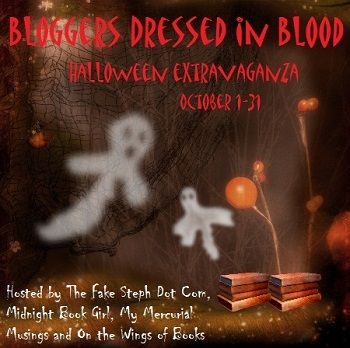 Participating in Bloggers Dressed in Blood? Be sure to link up your reviews and posts below.
Throughout the month I will be reviewing scary (ok, creepy) books to get you into the Halloween spirit. Join Kate, Steph, Danielle and I in our Halloween Fun.