Chain Letter by Christopher Pike
Series: Chain Letter #1
Published by HarperTeen on May 1, 1986
Genres: Horror, Young Adult
Pages: 192
Format: eBook
Source: Purchased
Add to: Goodreads

When Alison first read the chain letter signed "Your Caretaker," she thought it was some terrible sick joke. Someone, somewhere knew about tha tawful night when she and six other friends committed an unthinkable crime in the desolate California desert. And now that person was determined to make them pay for it.One by one, the chain letter was coming to each of them ... demanding dangerous, impossible deeds... threatening violence if the demands were not met. No one out of the seven wanted to believe that this nightmare was really happening to them. Until the accidents started happening -- and the dying...
What I Thought…
Chain Letter was THE BOOK of my childhood. I went through Pike's books like water but this one I read more than any of the others. I loved his books so much that after I read them all I made one very scary attempt at a King book.
Since this is a reread for me and it's been since the late 90's since I read it I decided to write down some stuff to see how good my memory was. I did a scary good job at remember the important stuff, in fact I was spot on for most of the book, with one glaring exception: I took it a little too far and I started in on the second book (Chain Letter 2: The Ancient Evil) for a few things. As the chain letter progresses they are given different tasks and I took a few of them too far (though I'm happy to report that after skimming the second book I at least got them right).
There are 7 major characters in the book, and while they know each other, they all aren't friends. A chance circumstance put them on this path. Their tasks in the chain letter are all tailored to what they cherish/hate.
Christopher Pike is a master story teller. As this is a reread for me I know who the killer is, but I forgot how well Pike twists everything around so that you are constantly thinking the Caretaker is someone else. You essentially have 8 possibilities for who the Caretaker is, one of the seven in the group, or someone from the outside. As I reread the book I could pin point each place that he made you think you knew who the killer was.
Even though I knew the outcome there were still some parts that were creepy, and I remember that the first time I read it I was definitely scared. But knowing who the Caretaker is definitely takes away some of the scariness.
Tony was my favorite character by a lot, he was (in the typical late 80's/early 90's YA) perfect, except for the one fault that made the book work. A couple of the characters drove me nuts, but it was by design so it wasn't too bothersome.
The thing that irked me the most was the fact that their high school life was more of a college life which was mildly irritating (I don't know about y'all, but I could not just come and go as I pleased in high school.) But it's one of those things that is like that to make other things work.
Chain Letter is not terribly scary, it's more thriller like, so I would definitely recommend it as a good Halloween read for those who are scaredy cats like me.
---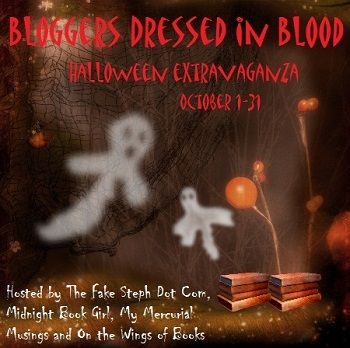 Participating in Bloggers Dressed in Blood? Be sure to link up your reviews and posts below.
Throughout the month I will be reviewing scary (ok, creepy) books to get you into the Halloween spirit. Join Kate, Steph, Danielle and I in our Halloween Fun.