The Bride Collector by Ted Dekker
Published by Hodder & Stoughton on April 13, 2010
Genres: Adult, Mystery, Thriller
Pages: 432
Format: Paperback
Source: Purchased
Add to: Goodreads

A virtuoso killer is carving a path of death across the west, intent on killing only the most beautiful women, all in the name of love. He has claimed six victims and slipped through the FBI's fingers, each time leaving behind a handwritten note and a bridal veil.

Special agent Brad Raines has hunted the Bride Collector from crime scene to crime scene, but each time he finds himself one step behind. Desperate for help, Raines turns to the Center for Wellness and Intelligence, a private home for gifted, mentally ill residents. There he finds help in an unlikely group of four who eagerly agree to help him solve the case.

Raines is quickly drawn to a young woman named Paradise who struggles with psychosis. As they grow closer, he begins to see the world through her eyes. Together they enter the killer's deadly game and begin to close in. But like Paradise, the Bride Collector is supremely gifted and he has a distinct advantage: this is his game.

Now Paradise will be pushed beyond her limits. She will learn what it means to be beautiful and what it means to love, really love. Full of surprising wit and hair-raising twists, that will keep yo riveted to the end, The Bride Collector will haunt you with a new way of looking at beauty, love, and the world in which you live.
What I Thought…
Even though I didn't find the book very terrifying, it was creepy and grotesque.  The first scene they come upon totally creeped me out. There were also quite a few times that I was skipping through paragraphs because the description was just too much for me and I couldn't handle it.
The killer was the best part of the story. He is obviously a special kind of psycho. He hangs them up and drains out the blood and it's just really creepy, but he's a fascinating character. You know who he is early on, which I like in books. I like the thrill of the chase as much as the puzzle of putting it all together.
The liked the characters well enough. They were so different, but not overly exaggerated with their uniqueness, nor were they perfect. I really liked Brad Raines and Paradise and I thought they worked well together, as well as the others from the mental hospital.
The beginning does start off kind of slow. Not The Girl with the Dragon Tattoo slow, but slow nonetheless. Once I got into the story though it was hard to put down. Dekker takes you on a wild, twisty ride.
There is some religiousness in The Bride Collector. The killer believes that God is telling him to do these things and that it's God's will.
The ending was a bit predictable but that didn't take away from the story at all for me.
Overall I enjoyed the story and it's a perfect October read!
---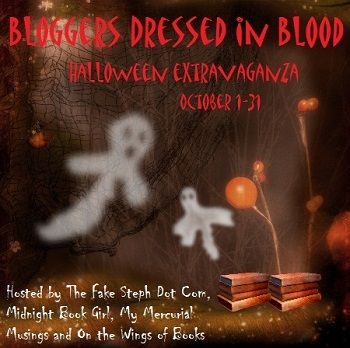 Participating in Bloggers Dressed in Blood? Be sure to link up your reviews and posts below.
Throughout the month I will be reviewing scary (ok, creepy) books to get you into the Halloween spirit. Join Kate, Steph, Danielle and I in our Halloween Fun.