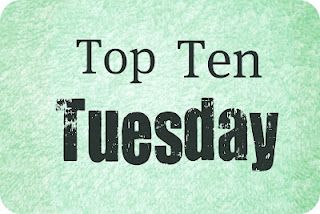 Top Ten Tuesday is an weekly meme created by the awesome people at The Broke and Bookish, who love lists as much as I do.
Top Ten "Older" Books You Don't Want People To Forget About (you can define older however you wish. Basically just backlisted books you think are great. Basically the point is to share books that could be forgotten about in the midst of all the new releases)
For this week I picked books that were published more than 2 years ago.
1. My Sweet Audrina by VC Andrews
No one does messed up like VC Andrews does. This one is a standalone, but that doesn't make the drama any less.
2. Of Mice and Men by John Steinbeck
One of my favorite books that I read in school.
3. A Time to Kill by John Grisham
It's not my favorite Grisham (The Client is) but this one has the most impactful story.
4. The Great Gatsby by F Scott Fitzgerald
My favorite book that I read in school.
5. Coming of Age in Mississippi by Anne Moody
My favorite book that I read in college. Completely heartbreaking, but so worth it.
6. Harry Potter and the Sorcerer's Stone by JK Rowling
This should be self explanatory.
7. The Help by Kathryn Stockett
I loved this book and there is so much you can get from it. Also, a shout out goes here for To Kill a Mockingbird. I forgot to put it on my list!
8. Charlotte's Web by EB White
Favorite book from the early years. It's a beautiful story and again, there is so much you can get from it.
9. Alive by Piers Paul Read
What these men had to go through was amazing and encouraging to everyone.
10. Looking for Alaska by John Green
A John Green book had to make the list, right?
---
Be sure to stop by my Bloggers Dressed in Blood Contest for a chance to win an ARC of The Farm by Emily McKay!
What books made your list?