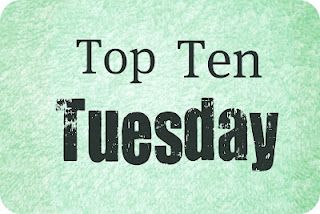 Top Ten Tuesday is an weekly meme created by the awesome people at The Broke and Bookish, who love lists as much as I do.
Top Ten Tuesday REWIND (pick a past topic that we've done that you missed or just want round 2 of!)
This week I'm going to do Books I had to buy… but are still sitting on my shelf.
1. Born Wicked by Jessica Spotswood
I don't even remember what this one is about, but I picked it up because of the pretty cover
2. Cleopatra by Stacy Schiff
I picked this up after I read Nefertiti by Michelle Moran.
3. Bad Girls Don't Die by Kate Alender
I bought this after I saw a couple reviews for it. I plan on reading this one this month.  Seriously.
4. Paper Towns by John Green
I know! I know! I should read it!
5. If I stay/Where She Went by Gayle Forman
Again, I know! I don't know what's wrong with me!
6. Dash and Lily's Book of Dares
I picked this up for the last readathon but didn't get to it. It's on my stack for the October readathon.
7. Amy and Roger's Epic Detour by Morgan Matson
Another one that I should have read a long time ago.
8. Coraline by Neil Gaiman
I actually purchased this book twice I wanted to read it so bad.
9. The Confession by John Grisham (not pictured)
I've read all his other books, and most of them fairly soon after release, but not this one.
10. See Jane Date by Melissa Senate (not pictured)
I've wanted to read this ever since I saw the made for TV movie. I found the ebook real cheap a while ago but still haven't picked it up.