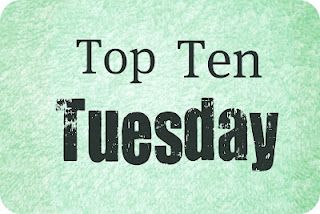 Top Ten Tuesday is an weekly meme created by the awesome people at The Broke and Bookish, who love lists as much as I do.
Top Ten Books I'd want on a deserted island
If I was only going to be stranded for 7-10 days I would totally want my ereader so I could have lots of choices. But since I don't know how long I'll be stranded for…
1. The Bible
I'll probably need it to survive and it's got a lot of pages.
2. Harry Potter series by JK Rowling
I'm going to cheat with this one and say the whole series, but if I'm hard pressed to pick just one, it would be The Deathly Hallows.
3. Stealing Parker by Miranda Kenneally
So much love for this book.
4. The Girl Who Kicked the Hornet's Nest by Stieg Larsson
I really need to finish this. This will be my chance.
5. Pushing the Limits by Katie McGarry
Another book I could read forever and ever.
6. Alive by Piers Paul Read
If they can survive, so can I.
7. Divergent by Veronica Roth
I need some action to keep my spirits up.
8. I've Got Your Number by Sophie Kinsella
A little something to pick me up when I'm feeling down.
9. The Book Thief by Markus Zusak
I want to reread this, and this would be the perfect opportunity.
10. Beauty Queens by Libba Bray
How could I be stranded on a deserted island with out Beauty Queens?