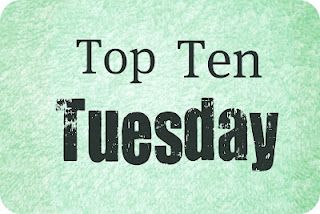 Top Ten Tuesday is an weekly meme created by the awesome people at The Broke and Bookish, who love lists as much as I do.
Top Ten Freebie – Favorite Covers
Here are some of my (current) favorite covers.

1. Between by Jessica Warman
I still haven't read this one, but I love the creepy tone of the cover.
2. Looking for Alaska by John Green.
I know a lot of people don't like this cover, but it's one of my all time favorites.
3. Venom by Fiona Paul
So pretty!
4. Beauty Queens by Libba Bray
A pageant sash and a ammo sash, what more could you want?
5. Ready Player One by Ernest Cline
I just find this cover visually appealing, not really sure why.
6. Hourglass by Myra McEntire
I loved this cover for a long time, but it wasn't until someone pointed out to me that she's walking on the wall that I really, really loved it. My only complaint about the cover is that it has nothing to do with the book.
7. The Unbecoming of Mara Dyer by Michelle Hodkin
I'm not sure how to describe this cover. It's gorgeous, but a little bit creepy at the same time.
8. Glimmer by Phoebe Kitanidis
I find this cover incredibly creepy, but it's absolutely perfect for the book.
9. The Diviners by Libba Bray
The cover on The Diviners is nice, but nothing incredibly special. It made the list for what's underneath the cover.
10. Anna Dressed in Blood by Kendare Blake
I picked this up based on cover alone. It's perfect.