I'm only participating in 3 challenges this year, besides the Goodreads challenge.
The A to Z Reading Challenge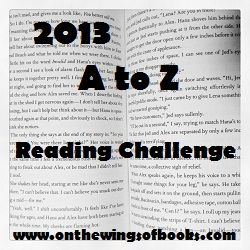 I'm hosting an A to Z challenge this year! I tried doing it this year, I even had all my books picked out for the tough letters like X and Z but then life got a little crazy and I decided to hold my X and Z books for 2013.
A – Across the Universe by Beth Revis
B – The Best Man by Kristan Higgins
C
D – The Dead Girl's Detective Agency by Suzy Cox
E – Everbound by Brodi Ashton
F – Forever and a Day by Jill Shalvis
G – Gone Girl by Gillian Flynn
H
I – If We Kiss by Rachel Vail
J
K
L – Legend by Marie Lu
M – A Million Suns by Beth Revis
N – Neverfall by Brodi Ashton
O
P – Prodigy by Marie Lu
Q
R – The Raven Boys by Maggie Stiefvater
S – Smart Girls Get What They Want by Sarah Strohmeyer
T – Things I Can't Forget by Miranda Kenneally
U
V
W – Who I Kissed by Janet Gurtler
X
Y
Z
What's in a Name 6

I did not succeed in this in 2012, but that doesn't lessen my excitement for 2013! This challenge is hosted by Beth Fish Reads and is a lot of fun! To learn all about the challenge head over to Beth Fish Reads.
Here are the categories:
A book with up or down (or equivalent) in the title:
A book with something you'd find in your kitchen in the title:
A book with a party or celebration in the title:
A book with fire (or equivalent) in the title: Monument 14 Sky on Fire by Emmy Laybourne
A book with an emotion in the title:
A book with lost or found (or equivalent) in the title:
Hopefully I'll be able to succeed in this one in 2013!
Christopher Pike Reading Challenge

The Christopher Pike Reading Challenge is hosted by Kate at Midnight Book Girl! If you've never read a Christopher Pike book I encourage you to do so, and this is the perfect way to get started!
I'm aiming for The Midnight Level, 4-6 books. This is not going to be a easy reading year for me so I don't want to set myself up for failure.
1
2
3
4
5
6