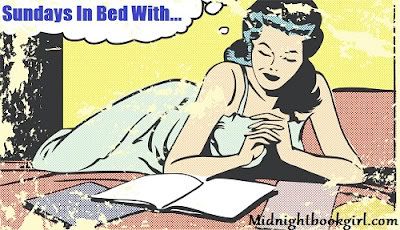 Sunday's in Bed is hosted by Kate at Midnight Book Girl to share with everyone what you're reading in bed Sunday morning before getting to the days activities.
Today I'm reading Decked with Holly.
Every year the weekend before Christmas I read a Christmas themed book. This year I've decided to read Decked with Holly by Marnie Bates. It's pictured here with my Nativity set. I'll be reading in between making all the pies. Lots to make this year!
I normally make 3 pies for the holidays (pumpkin, cherry, blueberry). This past Thanksgiving I was talking on the phone with my aunt discussing how many people were coming for Thanksgiving (now only 7). I could hear my uncle shouting to her, "she only needs to make one pie!" One pie! He thought 7 people could share one pie for Thanksgiving, that more than that would be "too much pie". Is there any such thing as too much pie? I didn't think so. Plus, what are you supposed to have for breakfast the next day? I went ahead and made the three pies anyway, and there was enough left over for breakfast the next day. :)
This Christmas there will be 11 people there, that's 4 more people, and 4 more people deserves another pie, right? So I'm making 4 pies, 2 pumpkin because that one went fast at Thanksgiving. And I know my uncle is going to freak out. But I don't care, because there is no such thing as "too much pie".