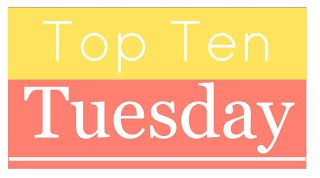 Top Ten Tuesday is a weekly meme created by the awesome people at The Broke and Bookish, who love lists as much as I do!
Top Ten Favorite New-to-Me Authors I Read in 2012
Since I didn't discover blogging until near the end of 2011 I read a ton of new authors this year, but here are my favorites. As always, in no particular order.

1. Michelle Hodkin
I love, love, love, The Unbecoming of Mara Dyer and The Evolution of Mara Dyer. They are creepy and mysterious and romantic all at the same time.
2. Meg Cabot
I've only read two of her books so far (Size 12 is Not Fat and Size 14 is not Fat Either) but I will read a lot more of her in the future. Her books are cute and funny and irresistible.
3. Veronica Rossi
Despite the fact that Under the Never Sky is pretty sci-fi for me, I loved it. I loved the characters and I loved the possibilities of where future books will take me.
4. Miranda Kenneally
Both of her books, Catching Jordan and Stealing Parker were amazing. Her characters were so likeable and her stories are so real. Plus I met her and she's awesome.
5. Veronica Roth
I loved the idea behind Divergent before I read it and I loved it even more after I read it.
6. Katie McGarry
I can't even tell you how much I loved Pushing the Limits.
7. Fiona Paul
She completely blew me away with Venom.
8. Myra McEntire
Another sci-fi-ish author that made me bend my own rules. Hourglass and Timepiece were amazing and I can't wait to find out what's next.
9. Molly Harper
I recently finished Nice Girls Don't Have Fangs and Molly Harper has gained a fan for life. This book was so good that I would consider reading How to Flirt with a Naked Werewolf and I'm not really a fan of werewolves.
10. Erin Morgenstern
The Night Circus was just pure magic (ha ha!). I enjoyed listening to the audio but there was just so much going on that I feel like I missed a lot. Someday I'd like to read it.