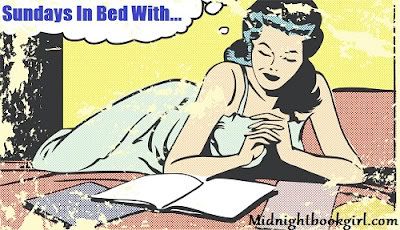 Sunday's in Bed is hosted by Kate at Midnight Book Girl to share with everyone what you're reading in bed Sunday morning before getting to the days activities.
Today I'm reading The Raven Boys by Maggie Stiefvater
I wish I could spend all the time reading today, but sadly I have to work. I was going to work yesterday and then finish up The Raven Boys today but I woke up at 6am and couldn't sleep and decided that I should tackle a home improvement task instead of reading. 8 hours later I finally finished (painting cabinets is tough work!) and I was exhausted so I didn't feel like working.
There is also something wrong with my personal email and it's driving me nuts! I came home from the game to find 7 "cannot deliver emails" for emails I never sent (these emails don't make any sense and are obviously some kind of spam) and in the 5 minutes it's taken me to write this post I've gotten 4 more. I'm going to be very upset if I wake up tomorrow morning with a gazillion messages and have to change my email address.
I'm about 150 pages into The Raven Boys and I'm liking it so far. Hopefully I'll be able to work fast and get some reading in before bed.
What are you reading today?