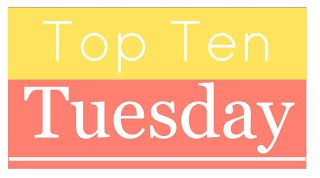 Top Ten Tuesday is a weekly meme created by the awesome people at The Broke and Bookish, who love lists as much as I do!
Top Ten Most Frustrating Characters
I'm not so sure why I had such a tough time making today's list because I feel like a lot of characters frustrate the hell out of me, but I'm can't think of them right now.
1. Abby from Beautiful Disaster
There is not a single character I've ever wanted to throttle as much as I wanted to throttle her. Good job making life choices Abby and staying with a guy that will probably kill you someday.
2. Travis from Beautiful Disaster
Travis beat someone to within an inch of his life for making a comment about his girlfriend. And that's just the tip of the iceberg.
3.Sookie from The Southern Vampire Series
Sookie, I liked you in the beginning. Really, I did. But you went from the nice girl next door to a serial dater, and to top it off your other decisions were completely nuts. Though you get props for dropping Vampire Bill.
4. Bella from the Twilight Series
Sure to be a popular choice today. Mostly I just got irritated with her complete and undying love for Edward that she just knew was never, ever going to change, even though she was only 17.
5. Jacob from the Twilight Series
Jacob, you were NEVER going to get Bella. NEVER.
6. Sam from Before I Fall
It's not very often I can say I liked a book where I didn't like the main character, but in this case it's true. Sam wasn't likeable until the very end.
7. Ashton from The Vincent Boys
Ashton pick up the phone, call your boyfriend and tell him it's over. It's not that hard.
8. Nick from Gone Girl
He made the WORST decisions ever. A lot of his problems could have been solved if he would have made just ONE good decision.
9. Orion from the Across the Universe Series
I see this in books time and time again, but he's on the list because I just read A Million Suns. Stop leaving clues all over the place for people to find on a "treasure hunt" so they can figure out the secret. You know the secret so just freaking tell them!!! No need to be a cryptic about it!
10. Gale from The Hunger Games Series
Gale I liked you in the beginning but then you had to do a complete 180 and become someone awful. Thanks for vindicating my choice of picking Peeta from the beginning.