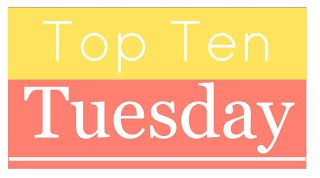 Top Ten Tuesday is a weekly meme created by the awesome people at The Broke and Bookish, who love lists as much as I do!
Top Ten Settings I'd Like To See More Of (Or At All) — (maybe you want read more books set in space or books set in Alaska or the beach)
1. Small towns
I can't say enough about small towns. From Forks to Lucky Harbor, I love them all.
2. A future that's not bleak
In most books that take place in the future the future is always depressing. I get that there are better stories when things are dark and dreary, but it'd be nice to read about happy futures.
3. Wisconsin/Virginia
I love reading stories that take place in Wisconsin or Virginia. I'm from WI and I live in VA now so I know these places pretty well and I love being able to picture things as I have seen them.
4. Czech Republic
I have this weird fascination with the Czech Republic (I've been fascinated since the days when it was still Czechoslovakia). I'm sure there are plenty of books that take place in the Czech Republic, I just haven't read them.
5. Dystopian anything
I realize this contradicts #2, but I can't help it. I like the dark stuff too.
6. Cruise ship
Someday I will go on a cruise ship, until then I will live vicariously through books.
7. Deep south
I love books set in the deep south. With it's mannerisms and culture it's so beautiful, especially if it's historical.
8. Natural disasters
My fascination with natural disasters began a long time ago and has never waned. I will watch absolutely any movie/tv special or read any book about natural disasters. Seriously, I even watch the really bad ones, like 10.5: Apocalypse (awesome natural disasters, not so awesome acting).