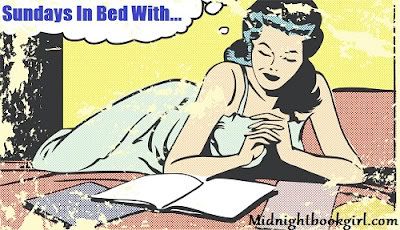 Sunday's in Bed is hosted by Kate at Midnight Book Girl to share with everyone what you're reading in bed Sunday morning before getting to the days activities.
Today I'm reading… nothing because I am ridiculously busy
I am completely ridiculous. So far in February I've read one book and one novella totaling 277 pages. I'm currently working a full time job and a part time job and I'm taking a certification course that has the work of 2 graduate classes. I have little time as it is and to top it off I've had a cold this whole week which has now turned into a ridiculous cough. I'd rather have a cough then a cold but I'd prefer neither.
Despite all this I totally blew my February book buying plan out the window and I did it miraculously by day 11.
Yes, that's five (5!) books that I didn't plan on buying and only one of those did I make a conscious decision before making the purchase.The rest were impulse buys at a signing (and one "accidental" click on Amazon).
Note about Is Everyone Hanging Out Without Me?: (I kind of assume that my readers are female, so sorry if this makes any male readers uncomfortable) A couple months ago I bought a couple boxes of tampons when they were on sale. When I went to get a new box and Is Everyone Hanging Out Without Me? was in the bag with the tampons. I have no recollection of buying it.
Excluding Venom (because I've already read it) I have purchased 3183 pages. If I read at my current pace of 18 pages a day it will take me 5 months to read the books I've just purchased. Good thing I'll have some free time in June!
So why am I purchasing more books when I clearly have enough to read already? It's because I'm ridiculous!
I knew that these next few months were going to be tough and Kate (Midnight Book Girl) and I made a deal one day to wait before purchasing a book and maybe call the other person so that we can be talked down from making the purchase. *snorts* I don't know what planet Kate and I were on when we had that conversation, but it sure wasn't earth!
Why am I sharing this with you, my readers?
Because I know you'll understand.
And I know you won't judge me.
I hope everyone has a great Sunday!