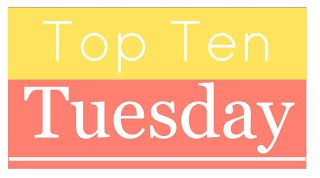 Top Ten Tuesday is a weekly meme created by the awesome people at The Broke and Bookish, who love lists as much as I do!
Top Ten Favorite Bookish Memories
I forgot to come back and put in some pictures so for now it's just a boring list. Sorry!
In no particular order.
1. Book Club
I love my book club so much. I love that we read a variety of books and that we're all awesome people.
2. My First Readathon/Starting the Blog
These events happened at the same time and I'm so grateful that I decided to participate and start my blog. It's led to so many other amazing bookish adventures.
Kate and I knew each other before book blogging so Steph was the first book blogger I met in real life. Despite the fact that we just met it was easy for us to spend hours just chillin and talking books at Panera.
4. My Second Readathon
After meeting Steph the three of us decided it would be a lot of fun if we got together and did Dewey's 24 Hour Readathon at my house. We had SO MUCH FUN! We may not have read all the books like we said we would, but it didn't matter because it was SO MUCH FUN!
5. My Brother Reads The Hunger Games
My Brother is not a reader. At all. One day I was on facebook and saw that my brother said he was reading The Hunger Games and couldn't put it down and I was completely shocked. After he finished I had him review The Hunger Games for me. He immediately read Caching Fire and Mockingjay as well and that makes my heart happy.
6. BEA 2012
BEA is book heaven. The books. The bloggers. The authors. The fun.
7. Contemps on Tour Book Signing
Kate and I took a short road trip up to Arlington to see Miranda Kenneally, Janet Gurtler and Lisa & Laura Roecker for a book signing. We had so much fun AND I didn't make a fool of myself talking to the authors. I was able to have a normal conversation with them, which was pretty awesome.
8. Harry Potter Christmas Gift
This past Christmas Kate got me a copy of Harry Potter and the Sorcerer's Stone in spanish and Harry Potter and the Deathly Hallows, the British version (with the pretty "adult" cover).
9. Children's Author Breakfast at BEA
Chris Colfer and John Green were such good speakers, but it was Lois Lowery who stole show. I don't think there was a dry eye in the house when she was done speaking.
10. My First "Adult" Book
I was reading All Around the Town by Mary Higgins Clark in the 6th grade when my teacher asked my mom if that was "appropriate" reading material for me. My mom told her that considering I've just spent the last two years reading horror by Christopher Pike and RL Stine it's a marked improvement so she has no complaints.