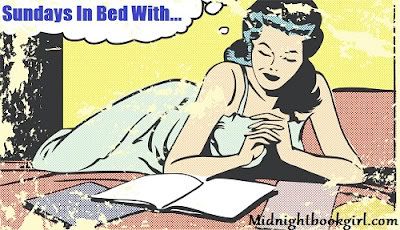 Sunday's in Bed is hosted by Kate at Midnight Book Girl to share with everyone what you're reading in bed Sunday morning before getting to the days activities.
I am exhausted. Why am I exhausted? Because I didn't sleep at all last night. Why didn't I sleep?
First a little story…
Back when I first saw The Ring I was still living at home, and I had a TV across from my bed. If you've ever seen The Ring you know that that is not awesome for scaredy cats like me. I didn't sleep good for several days because all I could picture was the girl coming out of the TV. I liked the movie, but it scared the crap out of me! I moved into my first apartment a few months later and got a free HBO trial and they were playing The Ring. I'm a glutton for punishment so I watched it (more than once) and didn't sleep well for weeks. Seriously, that girl FREAKS ME OUT!
So what happened last night?
I was minding my own business, watching some Big Bang Theory, when a commercial for the movie Evil Dead came on. There is this little girl looking through a vent or something and she has that same coloring as the girl from The Ring but she is seriously scarier. Her voice. Her face. It's all terrifying. I can't even remember what she said but just picturing her in my head is FREAKING ME OUT!!!! Honestly, I'm not sure I'll ever sleep again.
In other news…
I'm super excited today because Courtney from Abducted by Books is coming to Virginia!!!!
I hope everyone is having a safe and happy St. Patrick's Day!
If I get any spare time today (which is doubtful) I will be reading Requiem by Lauren Oliver. I just have to know what all the fuss is about, even if it breaks my heart.