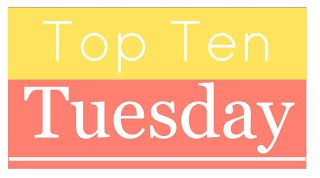 Top Ten Tuesday is a weekly meme created by the awesome people at The Broke and Bookish, who love lists as much as I do!
Top Ten Books I Recommend the Most
Obviously I recommend a lot of books. Because books are awesome! It was surprisingly hard to make this list though because I recommend different books to different people.
1. Gone Girl by Gillian Flynn
This is my number one recommended book right now. I'm pretty much telling everyone and anyone that they need to read it because seriously this book is AMAZING!!!
2. Size 12 is Not Fat by Meg Cabot
I love this series so very much that I can't help but want people to read it.
3. Bet Me by Jennifer Crusie
Anytime that someone is looking for a cute and fun book I recommend one of Jennifer Crusie's. Bet Me is my favorite.
4. Harry Potter by JK Rowling
I know this seems silly, but not everyone has read Harry Potter. Whenever I find out someone hasn't read Harry Potter I will do whatever I can to get them to read it. In fact my whole book club ganged up on another book club member to read them, and she loves them! Katie's currently reading the last book and I couldn't be more excited!
5. Ready Player One by Ernest Cline
This book blew me away! I just reread it for book club and it was even better the second time around. Seriously guys this book is so good I even recommended it to my brother!
6. Things I Can't Forget by Miranda Kenneally
All of Kenneally's books are amazing but this one goes beyond amazing.
7. Can You Keep a Secret by Sophie Kinsella
Another cute and fun read that I recommend a lot.
8. Divergent by Veronica Roth
I recommend this one all the to a lot of people. I most recently recommended this to my mom, but then I had to tell her not to read it because she recently freaked out on me about having to wait a year for the next book in a series. I've learned my lesson.
9. Alive by Piers Paul Read
I read this way back in high school and it's never left me. It's one of the few non fiction books I've ever loved and it's a fabulous survivor story.
10. The Book Thief by Markus Zusak
I don't have to tell you why this book is awesome, right?