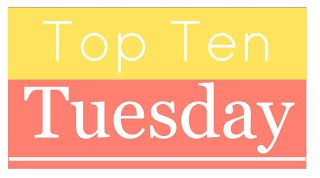 Top Ten Tuesday is a weekly meme created by the awesome people at The Broke and Bookish, who love lists as much as I do!
Top Ten Books on the TOP of my spring TBR list.
1. The Diviners by Libba Bray
I've wanted to read this for some time but it's just so big! I keep picking up other, shorter reads.
2. Through the Ever Night by Veronica Rossi
I'm really excited to see what happens next!
3. Requiem by Lauren Oliver
I'm torn between wanting to read it and not wanting to read it. I don't want the series to be over, but I really want to know what happens. I'm also a little nervous that I might not love it, and that would make me sad.
4. Pivot Point by Kasie West
I love the cover, the concept and all the people I trust love it so it should be excellent!
5. Size 12 and Ready to Rock by Meg Cabot
I accidentally saw a spoiler for something that happens and that makes me sad. But also excited because it's a good spoiler. I just wish I would have been able to read it in the book instead of on the internet.
6. 11th Hour by James Patterson
I know, I know. James Patterson doesn't even write his own books any more. But I really like the Women's Murder Club series and I just can't give it up!
7. Days of Blood and Starlight by Laini Taylor
I loved Daughter of Smoke and Bone so I'm very eager to get to the next book.
8. Paper Towns by John Green
This is my cousin's favorite John Green book and she's been after me to read it for like 4 years now. I promised her the other day that I would get to it soon.
9. Boundless by Cynthia Hand
Another book that I want to read but I don't want to read. Not sure if I'm ready for this series to end either.
10. Witch World by Christopher Pike
I don't know why I've waited so long to read this!