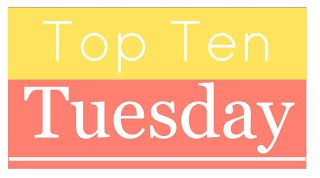 Top Ten Tuesday is a weekly meme created by the awesome people at The Broke and Bookish, who love lists as much as I do!
Top Ten Books I Thought I'd Like MORE/LESS Than I Did
 Books I liked MORE than I thought I would
1. The Return of Rafe MacKade by Nora Roberts
Way back in high school I was catching up on the backlog of Mary Higgins Clark and John Grisham books when I ran out of books. My mom gave The Return of Rafe MacKade to me and said I should try it. I was like "Hell no! I'm not reading any romances." But I did. And I loved it. And thus my love for all things contemporary was born. (Side note: I am so glad that contemporary romance covers have improved in their looks.)
2. Across the Universe by Beth Revis
Prior to a few months ago I would have been adamant about the fact that I don't read science fiction. I only picked it up because of a book signing and I flew right through it. Loving every minute of it, even if it did take place in space.
3. Fingersmith by Sarah Waters
Fingersmith is what I would consider literary fiction and I'm not a huge fan of literary fiction. This was our book club selection though so I buckled down and pushed through it. It turns out though that I didn't actually need to do that much pushing. I started to enjoy the story early on, but then there was a huge, gigantic WTF moment and I was sold from there till the end.
4. The Hunger Games by Suzanne Collins
I had no desire to read a book about kids killing kids. It's just not my thing right? Wrong! I not only enjoyed The Hunger Games I devoured it. I read all three books in less than a week. Collins really knows how to grab your attention!
5. Venom by Fiona Paul
I'm not that big on historical fiction, but while I was at BEA the ladies from Penguin said Venom was amazing and their favorite among all the upcoming releases so I picked it up. I put off reading it for a long time because 1. It's historical fiction and 2. There was a lot of pressure (internal) like it. It turns out I needn't have worried. Paul tells a fabulous story and the best part (for me anyway) is it wasn't too historical feeling.
Books I liked LESS then I thought I would
6. Grapes of Wrath by John Stienbeck
I read Of Mice and Men my sophomore year in high school and really enjoyed it so the following year when I saw The Grapes of Wrath on the reading list I was pretty excited. Turns out that The Grapes of Wrath is the worst book ever. I hated every single minute of reading it. Even after all these years this is still the worst book I've ever read.
7. Remember Me? by Sophie Kinsella
I love Sophie Kinsella and I pretty much devour all her new releases as soon as they come out. Remember Me? however was a huge disappointment. I liked it, but compared to all her other books this one sucked. There was just nothing in it that kept me into the story.
8. Sweet Valley Confidential by francine Pascal
Who didn't love the Sweet Valley High books? I read so many of them back in the day and I was really excited to see what's up with Elizabeth and Jessica today. Sweet Valley Confidential was a total mistake! It ruined all the things that I loved about Sweet Valley High and the gang. If you have love for Sweet Valley like I do then stay far far away from this book!
9. The Dead and Gone by Susan Beth Pfeffer
I really enjoyed Life as We Knew It so I was excited when my cousin loaned me the second book. Unfortunately The Dead and Gone was just OK. I liked the survival parts but I had trouble connecting with the main character. It also had a much different feel from Life as We Knew It and I was expecting the same kind of book.
10. Graffiti Moon by Cath Crowley
I really expected to love this one. It was my favorite genre (contemporary) and everyone said they loved it. Unfortunately for me I didn't find that love. It was a good book, it just didn't strike the feelings in me like it did for other people.