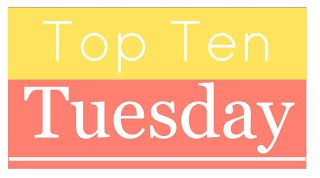 Top Ten Tuesday is a weekly meme created by the awesome people at The Broke and Bookish, who love lists as much as I do!
Top ten books I probably won't read this summer because I put them on this list.
I feel like making these seasonal TBR lists are the kiss of death for me. Each time I get worse and worse with actually reading the books on the list. I finished three books from my Spring TBR list (finished the third one on Sunday!). Three of the books from my Spring TBR list are repeats for summer (TTEN, Boundless and Pivot Point).
1. Through the Ever Night by Veronica Rossi
I was DYING to read this when it was released but I waited to buy it until I went to a signing and since then it's been just chilling on my shelf.
2. Boundless by Cynthia Hand
I started Requiem and couldn't get into so I've been putting off the end of the Unearthly series because I'm just a little bit scared.
3. Helter Skelter by Vincent Bugliosi and Curt Gentry
This one is a bit of a cheat because I'm selecting it for our August book club book, but that's not going to stop me from putting it on this list.
4. Pivot Point by Kasie West
Love the cover. Love what it's about. I must make time for this one.
5. How My Summer Went Up In Flames by Jennifer Salvato Doktorski
Looks like the perfect summer read!
6. The Kite Runner by Khaled Hosseini
I've always wanted to read this one, but I've yet to make the time. I have it on reserve from the library and it looks like it should come in in July.
7. Unbreakable by Elizabeth Norris
Preordered this one and it's still sitting on my shelf.
8. The Elite by Kiera Cass
See #7.
9. Wedding Night by Sophie Kinsella
I pretty much love all her books so I'm super excited about this one.
10. Shadowlands by Kate Brian
Honestly, I can't remember what this one is about anymore, I just remember that I want to read it.
What books are on your Summer TBR list?