Book Blogger Hop is hosted by Jen at Crazy-For-Books.
Who is your go-to author when you are in a reading rut?

I have two different authors that I will go back to if I'm in a funk.  JK Rowling and Sophie Kinsella.  I never, ever get tired of Harry Potter and Sophie Kinsella's books are always good for a laugh.
---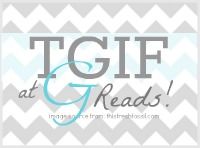 TGIF is a weekly meme to re-cap the week's posts & to propose a question for our followers. It is run by Ginger at
GReads
.
Unexpected Books: Which books did you have reservations about reading, but ended up loving once you did?
I didn't expect to actually like The Hunger Games.  In fact, the only reason I even read it was to prove to my friend Kate that I wouldn't like it.  And that totally backfired on me!